Cake Heaven You Create
This cake is heaven on earth and best of all you decide how to create it. Have you ever had that craving for something wonderful, decadent, out of the ordinary but you just can't decide between a slice of cake, some chocolate candy, s'mores are rolling around in your head but oh decisions, decisions!
Since so many of us are really trying to keep to some kind of nutritional regimen, whether it's watching carbs, counting calories, entering Weight Watchers points, eating Nutrisystem or Jenny Craig and joining gyms, taking walks or doing yoga we know we don't want to choose the slice of cake and the candy and the sweets like chocolate that are calling you, calling your name.
Today's cake recipe is everything sweet that's calling you all in one great dessert. And the best part is, you can choose your toppings as your cravings dictate or for special occasions and holidays. I don't go crazy often, but when I do, this is what I do. And my family is usually hoping they are all around when I bake it too!
This delicious cake for snack or dessert is simple as pie to bake. The base of the cake is your favorite cake recipe or cake box mix. I'm going to outline the cake in a box mix because that's simply how I do it best and sometimes you just can't plan when the craving will hit, so a quick easy box of white, yellow or chocolate cake mix is perfect for those times.
My recipe for cake heaven mix is very much like my recipe for cupcakes Cupcakes: The Sweet Treat We Love, except for this cake I would choose a yellow cake mix as my favorite because the consistency is a little better to hold up all the goodies we are going to pile on top.
Cook Time
Prep Time: 10 Minutes
Total Time: Less Than 1 Hour
Serves: 10 (or 1 if you're going crazy)
Ingredients
Your Favorite Cake Box Mix
1 Cup of Water
1/3 Cup of Oil (or as specified on directions)
3 Eggs (or as specified on directions)
Instructions
Follow directions on the box, it is that simple! You choose whether you are in a chocolate, white cake or yellow cake mood. There are of course also Red Velvet, Lemon, French Vanilla mixes available too so I am going to leave that big decision up to you and your pantry.
Most cakes will require eggs, water and oil to bake them up moist and yummy and you can improvise very often adding egg whites instead of eggs.
I know no one says it, but I always use, are you ready, olive oil (EVOO) in my cake mixes and they are wonderful but definitely choose whichever one works for you.
For this dessert I choose a rectangular glass or non-stick baking tray, or even an aluminum foil tray will do depending on the occasion.
Use A Hand Mixer to mix all of the ingredients in a mixing bowl until there are no more lumps in the batter.
Spray Baking Pan with non-stick spray
Pour The Batter into the baking pan
Bake In Oven At 350 degrees for about 35 minutes.
When your cake base is done baking it's time to create some heaven!
Mix It Up With a Hand Mixer
Having the right tools in the kitchen really makes baking and cooking so much more fun and delicious. I use a hand mixer for baking cakes, whipping up potatoes, beating up egg whites and even for a great pumpkin pie recipe I have.
Hand mixers like everything else for the kitchen are available in no frills versions at great prices up to variable speeds, accessory beaters for different mixer jobs, awesome retractable cords and some even offer self storage for hand mixer accessories.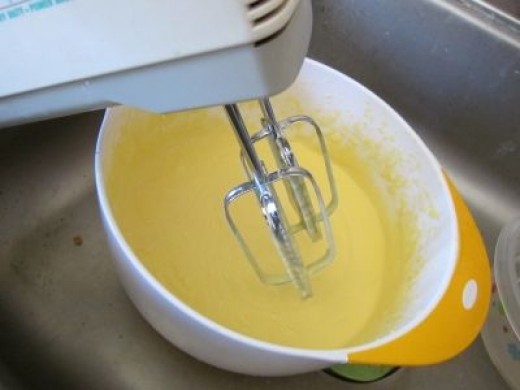 Baking The Cake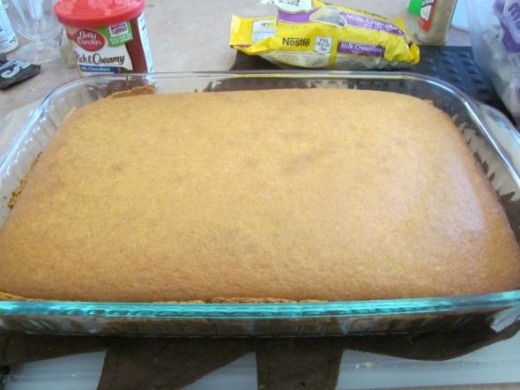 Baking the cake is the first step of this easy peasy recipe. You can bake it from your own favorite home made recipe or you can make it from cake box mix. Any of your favorites will do including yellow cake, chocolate, white, lemon, red velvet or any one you pick.
The cake is like the structure of this foundation adding to the hearty wonderful flavor and feel of your slice of heaven. For me honestly, the cake is there to hold up all the goodies I can't wait to get my fork on and enjoy every taste.
For some people it's all about the cake. For me it's all about the toppings that the cake is holding up!
Cake Heaven Recipe PART 2 Topping The Cake Basics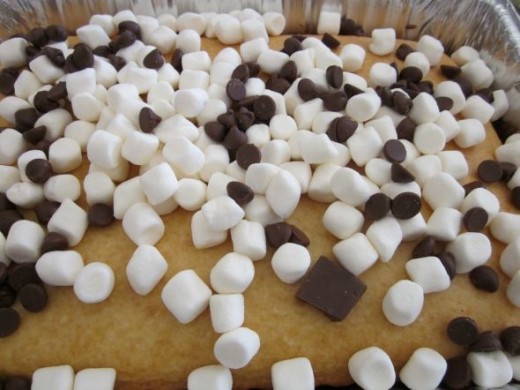 While the cake is still warm, in fact straight out of the oven is the best time to start this part of the recipe! Most cake recipes tell you to allow the cake to cool before adding frosting but oh no, not this wonderful cake recipe. Here's how I start topping my slice of heaven…
Marshmallows. For any one loves marshmallows, thinks they like marshmallows, adore S'mores or just want to try something different grab a bag of mini marshmallows and throw a couple of handfuls right on top of your still hot to warm cake base. How many exactly? That's up to you but remember you want to leave lots of room for your other goodies to blend along with them.
Chocolate Chips. You have to add chocolate chips. Or mini chocolate chips are my favorite! I have no measurement for this deliciousness and believe strongly you just can't have too many! Remember add as many as you can before the cake cools and now they are already bonding in the melty best way possible.
White Chocolate Chips. Don't stop at chocolate chips, white chocolate chips are great right alongside them so toss some of these on there too.
Cake Heaven Recipe PART 3 More Toppings!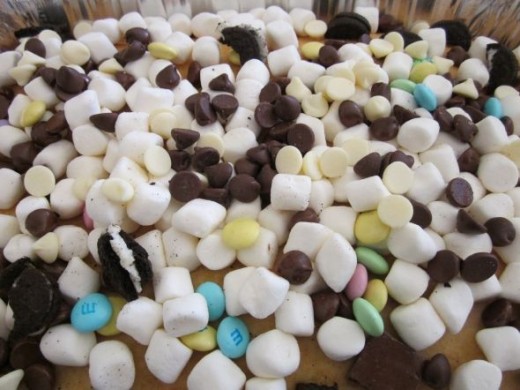 Ever have one of those cravings where you just really want a 3 Musketeers or no, really you want M&M's or oooh I know a handful of Oreo cookies followed by chocolate peanut butter cups, Kit Kats or nuts, maybe some walnuts, almond joy bars……
Well now you can have all of them. Yes, all of them. And they may all just end up on your piece of cake heaven. Picture some delicious chunks of your favorite candy bars, sweet indulgences, cookies and add, add, add. All you have to do is use your imagination and let your taste buds, cravings and pantry be your guide.
Slice it up, throw it on whole, make them into chunks whichever is your favorite way of topping a cake to make sure you get all the yumminess you are craving, well go for it!
Advice on Toppings
You can't top this, giving advice on the best, most favorite candy, cookies and sweets to add to your cake is the most fun I could ever ask for. I'm always thinking about my nutrition and worrying about carbs. Watching TV is amazing because every single commercial it seems like features another wonderful, crazy snack, meal or temptation that I just shouldn't be planning on.
So that's why if I'm going to to go crazy, I am really going to enjoy it! And I am more than happy to share my greatest advice on how you can blow your diet too.
Choose one, choose a lot. And remember next time you make the cake, you get to choose anything you love again!
Cake Heaven Part 4: Frosting On The Cake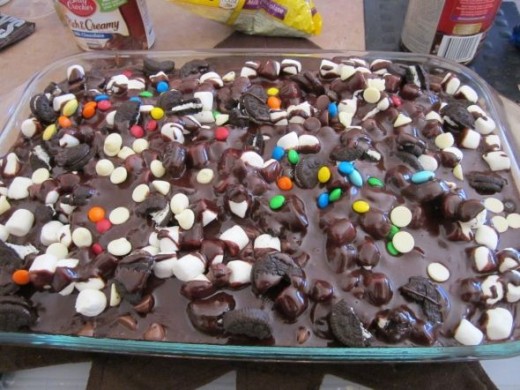 Here it is. The icing on the cake. The end to the recipe that is just the beginning of a piece of heaven you are about to savor. Here's how I add the frosting:
Take a tub of your favorite frosting. Mostly I use chocolate frosting to top a yellow cake but any frosting flavor will be delicious! Take the plastic cover off the container and then
This part is really really important: Peel back the aluminum covering that is keeping your frosting fresh in the can. Not just peel it, I mean really peel it ALL off. Check the sides of the can and be sure every speck of silver is absolutely gone. It's metallic and if you leave it on for the next step it could be hazardous. Once there is no more silver:
Put the frosting in the tub into the microwave. Cook on high for about 22 seconds. The can will be warm so be careful handling and stir with a spoon or spatula until it is smooth and moves easily. If you need to, you can heat for another 10 seconds and stir again. And then
Pour the whole can of frosting still warm over everything. Over the toppings. Over the chocolate. Over the marshmallows and cookies. Pour the can over the whole cake. Of course if that's too much frosting for you, use only as much as you want to. Feel free to drizzle it more or less wherever you want it. Because this is your cake and your special treat!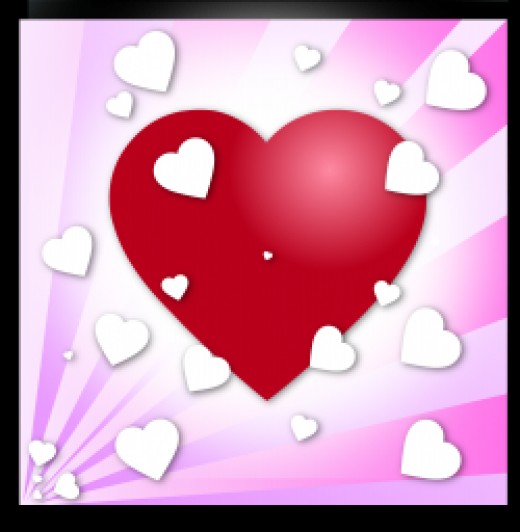 I could never forget to to mention THE most important ingredient in our Cake Heaven recipe and that is LOVE. You have to love the flavors you choose and the frostings and the toppings. You definitely have to love the chocolates, sprinkles, cookies and sweetness all blended together just the way you choose. You have to love who you share it with. You have to love where you are and just the wonderful fact that you can make this great cake.
You have to love yourself enough to treat yourself to some fun.
Add lots and lots of love to every spoonful, cup and handful of everything you add to this recipe to make sure it comes out tasting even sweeter with each bite.
I know this is bad. Oh no, no, the cake is delicious! Baking it and creating all the wonderful aromas of some sweet surprise throughout your house is awesome. Topping it with your family members and sharing it with them is so delicious and so fun.
But sugar, so bad for us. White flour, uh oh. And then there's fat to consider and carbohydrates in general. Oh my bad.
I would never recommend this cake as a daily part of your nutritious diet. I wouldn't serve it to my children for dinner. And for some people nutrition is not just about trying to stay fit. It's what keeps us balanced. But sometimes…..